Epilepsy Research Initiative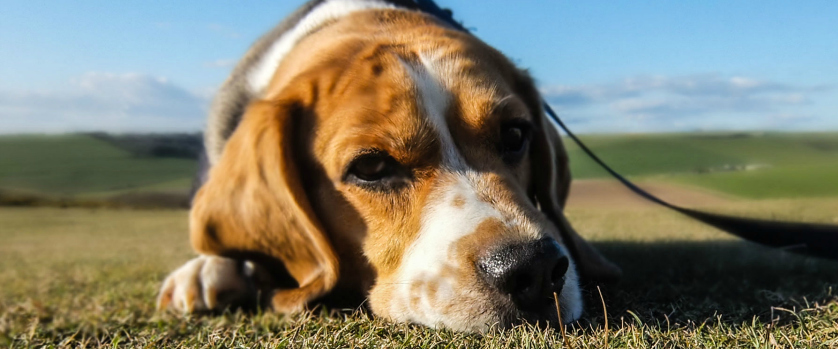 What is Epilepsy?
Epilepsy is the most common medical neurological disorder in dogs. The term epilepsy refers to recurrent seizures resulting from an abnormality in brain function. The condition can be inherited (genetic epilepsy), caused by structural problems in the brain (symptomatic epilepsy), or may be of unknown cause (idiopathic epilepsy). Determination of the appropriate treatment for canine epilepsy, as well as prognosis for the condition, depends on accurate diagnosis of the type and cause of seizures.
Research
02561-Is gut dysbiosis associated with canine idiopathic epilepsy?
Principal Investigator: Karen R. Munana, DVM; North Carolina State University;
Total Grant Amount: $104,453; Grant Period: 02/1/2019 - 01/31/2022
2323-Efficacy of Cannabidiol (CBD) for the Treatment of Canine Epilepsy
Principal Investigator: Stephanie McGrath, DVM, MS; Colorado State University;
Total Grant Amount: $356,022; Grant Period: 10/1/2017 - 11/30/2020
02248: Identification of a Novel Juvenile Myoclonic Epilepsy Gene and Its Underlying Disease Mechanism
Principal Investigator: Hannes T Lohi, PhD; University of Helsinki and the Folkhälsan Institute of Genetics
Total Grant Amount: $82,240; Grant Period: 5/1/2016 - 10/31/2017
Read Dr. Lohi's epilepsy research publication >>>
How a Gene Defect in Dogs Could Help Treat Epilepsy in Humans
02249-A: Studying the Role of the Gastrointestinal Tract in Canine Epilepsy
Principal Investigator: Karen R. Munana, DVM; North Carolina State University
Total Grant Amount: $14,995; Grant Period: 6/1/2016 - 2/28/2018
02252: Investigating a Ketogenic Medium-Chain Triglyceride (MCT) Supplement for the Treatment of Drug-Resistant Canine Idiopathic Epilepsy and Its Behavioral Comorbidities
Principal Investigator: Holger Andreas Volk, DVM, PhD; Royal Veterinary College, University of London
Total Grant Amount: $107,697; Grant Period: 5/1/2016 - 3/31/2018
Read Dr. Volk's Research Publication >>>
02257: Identification of Genetic Risk Factors for Canine Epilepsy
Principal Investigator: Gary S. Johnson, DVM PhD; University of Missouri, Columbia
Total Grant Amount: $112,781; Grant Period: 5/1/2016 - 7/30/2018
02131: Neurostimulation: A Groundbreaking New Treatment for Canine Epilepsy
Principal Investigator: Sam Nicholas Long, BVSc, PhD; The University of Melbourne
Total Grant Amount: $116,000; Grant Period: 10/1/2014 - 6/30/2016

02133: Canine Epilepsy: Genetic Variants, Biomarkers, and New Therapies
Principal Investigator: Ned E. Patterson, DVM PhD; University of Minnesota
Total Grant Amount: $104,781; Grant Period: 10/1/2014 - 3/31/2017
Read Dr. Patterson's research publication >>>
Read about the other epilepsy grants funded by CHF.
The life-altering nature of epilepsy is of foremost concern to the AKC Canine Health Foundation and requires a major research effort. With your support, we can make a significant investment and make real progress in the fight against epilepsy.
Publications from CHF-Funded Studies:
Educational Resources
Dr. Diane Brown, CHF CEO, spoke with Pure Dog Talk in 2018 about canine epilepsy and the multifaceted research approach being taken to address this common malady in dogs through the AKC Canine Health Foundation's Epilepsy Research Initiative.
Listen to the podcast
What's Feeding Those Seizures? An Update on Refractory Canine Epilepsy and the Potential Link to Gastrointestinal Health
Speaker: Karen R. Muñana, DVM, MS, DACVIM (Neurology)
Watch this exciting webinar on demand! (Link will take you to the VetVine website, CHF's partner in our webinar series.)
This webinar, like others in the series, is approved for up to 1 hour of CE credit for veterinarians and veterinary technicians. This approval is valid in jurisdictions which recognize AAVSB RACE; however, participants are responsible for ascertaining each board's CE requirements.

Read our peer reviewed Epilepsy whitepaper and sign up to download a free seizure diary.

Seizure information from the American College of Veterinary Internal Medicine
Epilepsy research recently funded by the AKC Canine Health Foundation
EPIL-K9 All Breed Canine Epilepsy List (online discussion group)
Thank You to the Sponsors of the Epilepsy Initiative
Champion Sponsors ($50,000+):
Sponsors ($2,500+):
Alaskan Malamute Club of America
American Belgian Tervuren Club, Inc.
American Brittany Club
American Cavalier King Charles Spaniel Club Charitable Trust
American Chinese Crested Club
American German Shepherd Dog Charitable Foundation, Inc.
American Miniature Schnauzer Club
American Pointer Club
American Shetland Sheepdog Association
American Spaniel Club Foundation
Australian Shepherd Health & Genetics Institute
Bichon Frise Club of America, Inc.
Border Terrier Club of America
Boston Terrier Club of America
Chihuahua Club of America
English Springer Spaniel Field Trial Association Foundation
English Springer Spaniel Foundation
Field Spaniel Society of America
French Bulldog Club of America
Friends of the Cane Corso, International Cane Corso Federation, and Cane Corso Association of America
German Shorthaired Pointer Club of America
Giant Schnauzer Club of America
Gordon Setter Club of America
Great Dane Club of America
Greater Swiss Mountain Dog Club of America
Greyhound Club of America

Health & Rescue Foundation of the Petit Basset Griffon Vendeen Club of America
Irish Setter Club of America Foundation, Inc.
Irish Wolfhound Club of America
Irish Water Spaniel Club of America
Keeshond Club of America
Labrador Retriever Club, Inc.
Mastiff Club of America Charitable Trust
Miniature Pinscher Club of America, Inc.
National Beagle Club
Norwegian Elkhound Association of America, Inc.
Orthopedic Foundation for Animals
Pawtucket River Labrador Retriever Club
Piedmont Border Collie Association
Poodle Club of America Foundation
Portuguese Water Dog Foundation
Rhodesian Ridgeback Charitable Foundation
Rhodesian Ridgeback Club of the United States
Saint Bernard Club of America and Charitable Foundation
Siberian Husky Club of America, Inc.
Toby's Foundation
United States Australian Shepherd Association
United States Australian Shepherd Foundation/USASA
VizslaClub of America & Vizsla Club of America Welfare Foundation

Help Future Generations of Dogs
Participate in canine health research by providing samples or by enrolling in a clinical trial. Samples are needed from healthy dogs and dogs affected by specific diseases.